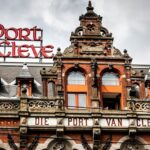 The Betrayal of Jacqueline Flower
15 November 2022
Pilgrimage to Kensal Green Cemetery
Isambard Kingdom Brunel
died on 15th September 1859 at his home in Duke Street, aged 53. As you can see, he was laid to rest in the Brunel family tomb at Kensal Green Cemetery, London. It is not far from Paddington Station and the GWR; both of which he so famously built.
Brunel's originality was matched
by the breadth of his mind: excelling as architect, surveyor, civil engineer, mechanical engineer, and ship designer. Brunel's Vision was endless. He was, in the words of his biographer, Angus Buchanan: 'Britain's Greatest Engineer.'
His life is commemorated
 at Westminster Abbey; his achievements are around for all of us to appreciate. And Bristol lies at the heart of that extraordinary life.